Men's Hall of Fame
Dave Lightle 1972-1975
Dave Lightle competed for the Red Devils in track and cross country from 1972-1975. In his junior campaign, Lightle finished 2nd in the 1974 state cross country meet. He finished 6th as a senior (9:42) helping the Red Devils to their second consecutive runner-up finish. He was league, district, and regional champion in cross country in 1974. Lightle also starred on the track team, earning all-ohio honors in 1973, 74, and 75. He still owns the school record in the 1600, 4:20.5 He finished up his career as a 7-time state qualifier to the state meet. Lightle continued his running career at Dartmouth competing from 1976-78. Lightle was also an excellent basketball player. He earned 12 varsity letters in high school between XC, Track, and Basketball.
Dave Grim 1971-1974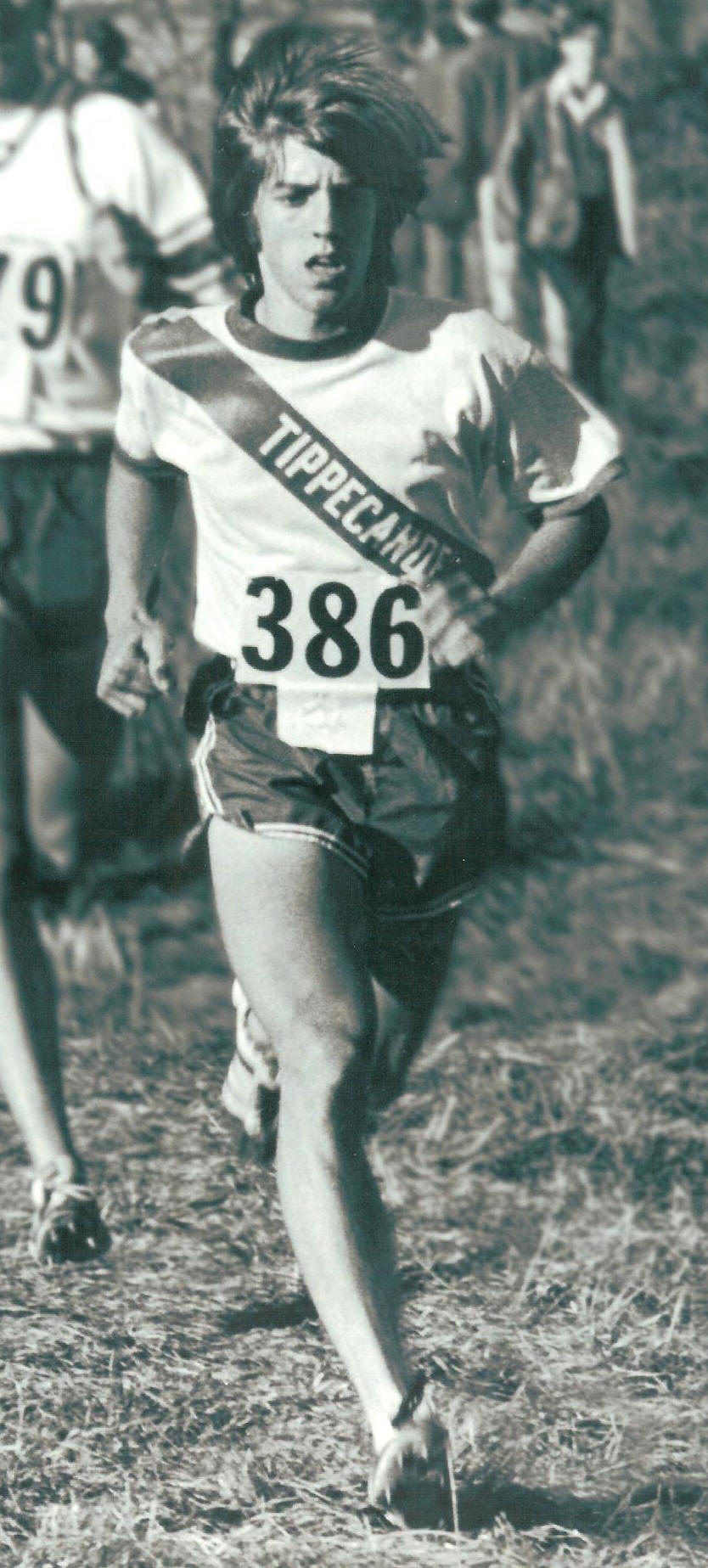 Grim was instrumental and establishing the dynasty of the boys' teams in the 70's. He was the district champion in 1973 and eventually finishing 10th. The following season Grim helped the Red Devils to a second place finish at the state meet with a 12th place finish individually. Dave was also an outstanding 2 miler in track. His 9:36 in the 1974 state track meet earned him all-ohio honors. Grim elected not to run at the collegiate level. However, he competed in road races regularly in the 80's and 90's recording personal bests in the 5K 15:57, 10K 32:32, and marathon 2:40. Dave is the father of former all-ohioan Melanie Grim. He also helped coach the Tipp's JH team in the late 90's.
Scott Dixon 1973-1975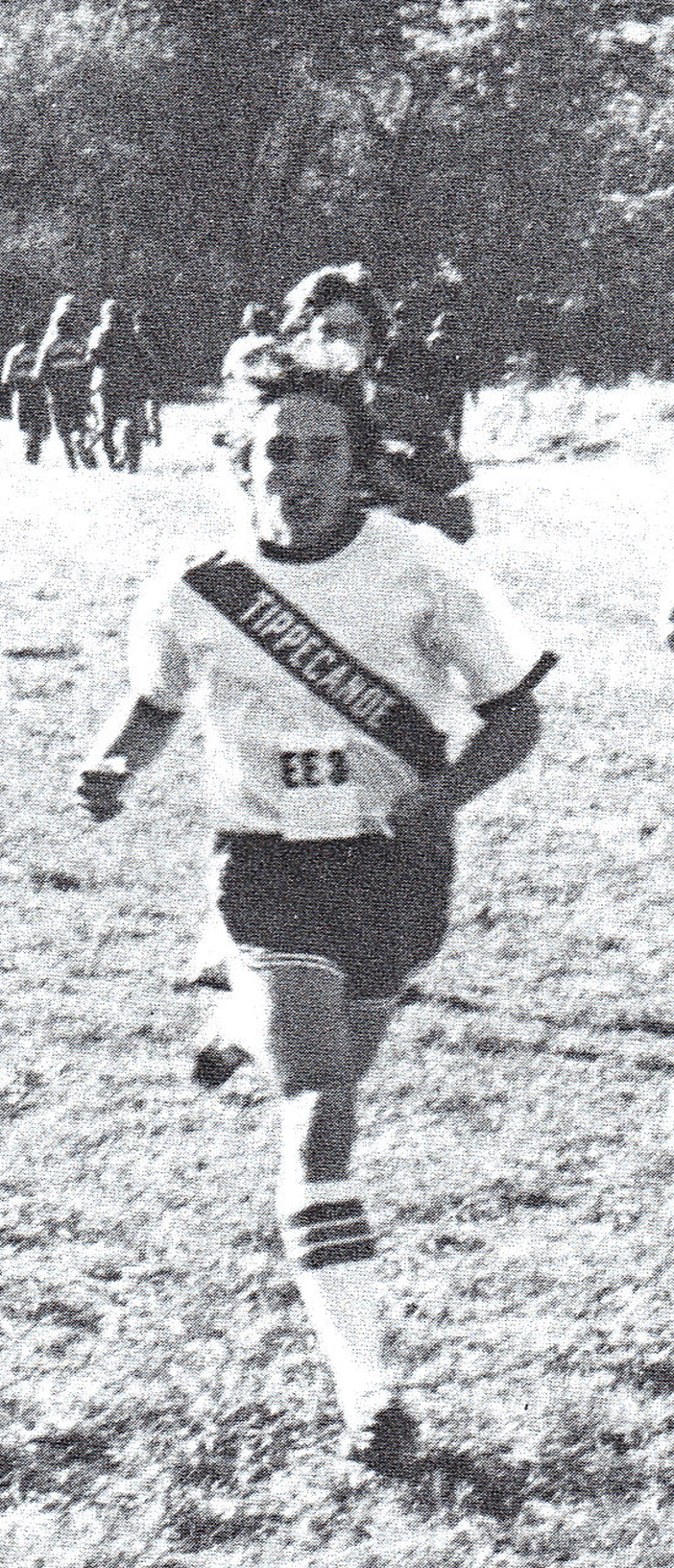 Scott Dixon was another cog in the Red Devil machine of the 70's. Dixon's steady improvement helped lessen the loss of Dave Grim after the 1974 season. He helped Tipp another 2nd place finish at the 1975 state meet. His 9th place finish in the 1975 state meet earned him all-ohio honors. He clocked in at 9:46 which ranks 3rd all-time on the 2 mile CC list. In track, Dixon recorded personal bests of 4:29 in the mile and 9:52 in the 2 mile. Scott turned in some impressive times on the road after college. He recorded personal best times of 15:39 5K, 33:10 10K, and 2:44 in the marathon. Scott currently is a member of the Tipp City Board of Education.
Tracy Freeman 1972-1975
Tracy Freeman had tremendous talent. However, he was often overshadowed by his prolific teammates. Freeman may have been on his way to having an oustanding season as a junior. He won the 1974 Bethel Invitational beating both Lightle and Rawlins. However, shortly after the meet he developed a stress fracture. As a senior he turned in a steller performance at the 1975 state meet. Tracy clocked in at 9:56, good enough for 13th place and all-ohio honors. In track, Freeman qualified for the 800 meter run as a junior. His personal best in the event was 1:57. Freeman ran at Loyola of Chicago in college. He has since moved out of the area.
Jeff Rawlins 1972-75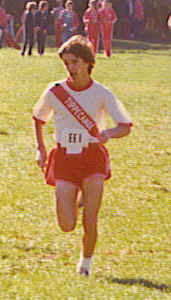 Jeff Rawlins up until the 1975 season had been inconsistent. By his own admission he had "choked" in the big races. His 1975 season was a far cry from the past. Jeff won every meet his senior season until the state meet, where he finished 4th with a school record 9:38. In track, he finished 3rd in the 2 mile his senior campaign with a 9:22. Jeff finished his running career as an All-American at Malone College (he still holds the marathon record). Rawlins is known as one of the all-time great road racers in the Dayton area. He was elected to the Dayton Distance Running Hall of Fame in 1994. He was named top runner in Ohio in 1992. His personal bests include 14:12 5K, 29:30 10K, and a 2:16 marathon (3-time Olympic trials qualifier). In 2009, Jeff won the USTAF Grant Masters 10K Championships in Wisconsin.
Carl Huntsberger 1979-82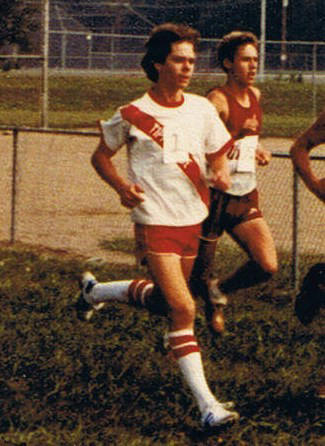 After the depature of the 70's dynasty, Carl Huntsberger put together a solid running career in the early 80's. Carl qualfied for the state cross country and track meets. He recorded a 12:30 2.5 mile time before the state switched to 5K in 1982. Huntsberger's 16:29 during his senior campaign was the school record until Jason Salyer topped the mark in 2007. Huntsberger was all-SWBL in 80 and 81 and all SRC in 1982. In track, Huntsberger's versatility as a distance runner was most evident. His personal bests include 4:26 (1600) and 1:58 (800). Carl ran anchor on the 1983 4x800 relay team that currently holds the school record at an impressive 7:54.71.
Todd Hartline 1980-83
Todd Hartline was another quality distance runner for the Red Devils in the early 80's. Hartline checks in at number 5 on the all-time 5K list at 16:30. He was the 3rd Red Devil harrier to win a conference/league title capturing the SRC crown in 1983. Todd was a three time all-SRC runner in cross country and track. He qualified for the state meet in both sports. Hartline also helped produce one of Tipp's best distance feets in 1983. The Red Devils finished 5th in the state in the 3200 relay behind Hartline, Carl Huntsberger, Chris Wampler, and Doug Hartline. Todd has since moved out of the area.
Jason Bruns 2006-08
Jason Bruns was a key recruiting coup by former varsity coach Dave Larson. Bruns' switch from Football to Cross Country proved to be instrumental in the development of the Red Devils current run. Jason was a consistenly strong runner in XC. He was a 2-time all-CBC runner. Bruns ranks 6th on the all-time 5K list with a 16:36. In track, Jason was a two-time state qualifier in the 800 meter run. He captured the 2007 regional title in thrilling fashion and returned to the state meet in 2008. He recorded a personal best 1:58 in the event in 2008. Bruns continued his career running for Wright State. He was consistently the Raiders best runner for his final two seasons. He earned All-Horizon League honors and recorded a personal best of 14:54 on the track.
Jason Salyer 2005-08
Jason Salyer's impact on the cross country program in the last 20 years is unmatched. His passion for the sport and leadership helped mold a collection of talent into a championship team. He finished his career as a two-time all-ohioan in XC, finishing 3rd overall as a senior with a then school record 15:42. He's a two-time CBC, District, Miami County, and Regional champ as well. In track, he was a 2-time all ohioan in the 3200 meter run running the third fastest time in school history at 9:35. His 4:26 (1600) ties him for second all-time with Carl Huntsberger. Jason moved on to Bowling Green where he has been an All-MAC performer. In 2013, Salyer finished 6th at the MAC Championships. He became the first Falcon to earn 1st team honors since 1995. In track, he recroded a 14:47 (5K)
Kevin Fink 2006-09
No other runner has probably improved more from there freshmen to senior year than Kevin Fink. His improvement from sophomore to junior year was explosive. Fink went from a mid 17's runner to an all-ohioan in a year. His 16:08 ranks him second all-time on the 5K list. He followed up his 12th place finish at the state meet by finishing 10th as a senior. Fink helped lead a young Red Devils team to a 6th place finish in 2009. As a senior he was County Champion as well as dominating the CBC meet. In track, Kevin has recorded a personal best of 4:33 (1600). To top it off, Kevin has achieved National Meritt Honor status. Kevin became a UC Bearcat and has been a solid runner for the XC and track squads. Kevin ranks third all-time on the UC 5000 meter list with a 14:38.
Tyler Feitshans 2006-09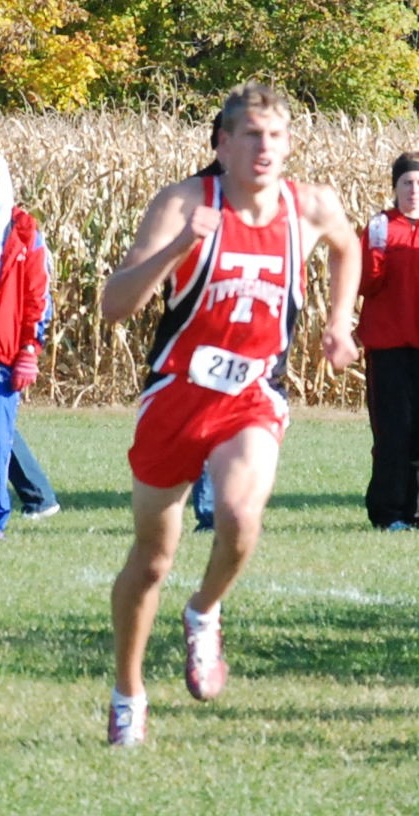 Tyler burst onto the scene as an 8th grader recording an 11:00 for 2 miles. He quickly emerged as an outstanding runner at the high school level. His hard work paid off his senior year, which was easily his best. Feitshans recorded a personal best 16:28 at the state meet, finishing 15th overall and earning all-ohio honors. He is one of the handful of 4-time all CBC runners in conference history. In track, Feitshans was one of the most versatile distance runners. He's recorded personal bests of 4:25 (1600) and 9:54 (3200). He's also been instrumental in running on the 2 time state qualifying 4x800 team. Tyler took his running resume to Ohio Northern. After battling iron deficiencies his freshmen and sophomore year, Feitshans caught fire and ran very strong his final two seasons in Ada. He earned 1st team all-OAC honors as a senior.
Rick Andrews 2009-12
Rick began his career as a 75 pound 13 minute 2 miler in junior high in 2007.  Six years, 8 inches and 60 pounds later, he finished his career as an outstanding distance runner.  Rick still holds the JH 2 mile record at 10:52.  He is a 3-time all-CBC runner, finishing 3rd at the CBC meet in 2012 and 5th at the Dayton District Meet as a senior.   He recorded a personal best 16:22 at the state meet in 2012.  His consistent performances were a vital part of the 2012 qualifying for the DI state meet.  Andrews lead the team in total points as a junior and senior.  In track, he recorded personal bests of 4:38 and 9:52. Rick will attend Ohio State University in the fall.
Grant Koch 2009-12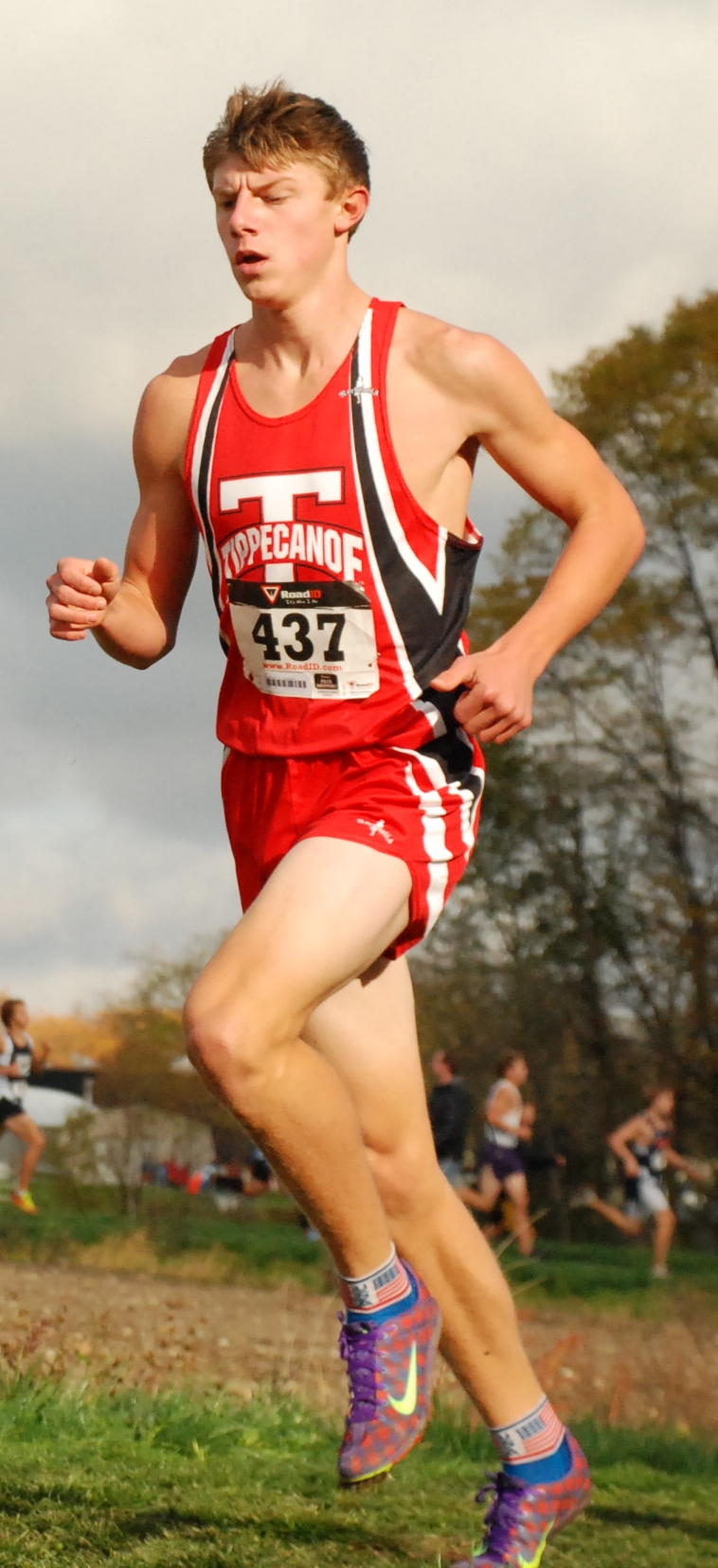 Grant Koch will be remembered as one of the most clutch runners in school history. Koch ran his best in post-season meets. He is a 2-time all-CBC Runner finishing 5th in the CBC in 2012. Two of his best performances came at the Troy Regional course. In 2009, Koch, then a freshmen, blasted the last 800 meters of the course helping the Red Devils win there 3rd consecutive regional title. Three years later, Koch put together one of the most important and impressive finishing kicks in school history. He blasted the last 600 meters, passing over 20 runners and helping the Red Devils solidify a trip to the state meet. At the state meet, Koch ran a personal best 16:13. In track, Grant is the school's 800 meter record holder at 1:55.25. He earned all-Ohio honors in 2012 finishing 6th in the 800. Grant will continue his running career for Notre Dame.
Sam Wharton 2009-12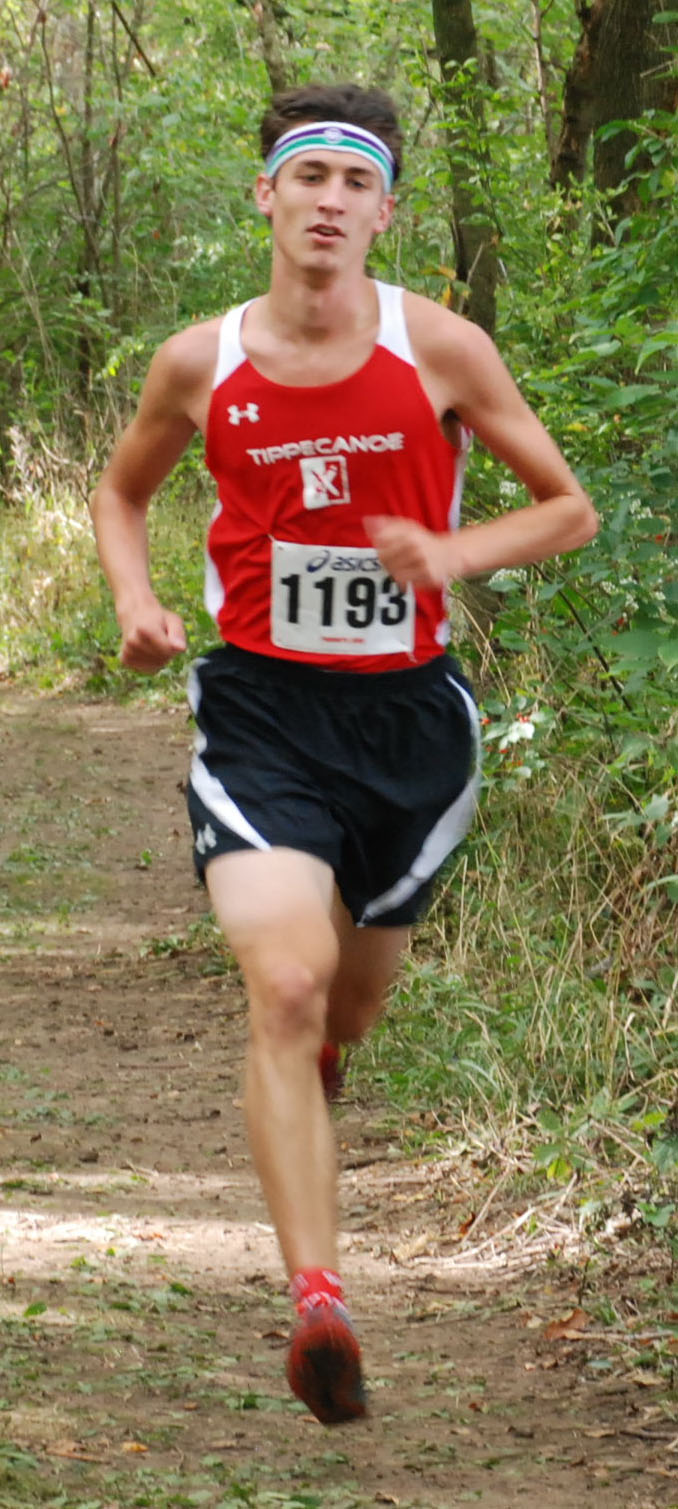 Sam Wharton's cross country career is nearly unmatched in state history. Wharton burst onto to the scene with a 16:38 as a freshmen at the state meet, earning his first of 4 consecutive all-Ohio performances (24th-09, 8th-10, 2nd-11, 1st-12). In all, Wharton won 19 races in his career including: 3 CBC titles, 3 County titles, 2 District Titles, 1 Regional Title, State Title (2012), and Nike National Champion (2012). Wharton also holds course records for the CBC, Alliance Running Inv., Tippecanoe Inv., and the National Raceway Course. Sam also earned 2012 Gatorade Runner of the Year in Ohio honor. He became the first Ohioan to win Nike Cross Country Nationals in 2012. In addition to Nike, Sam finished 6th at Foot Locker Nationals earning Foot Locker All American honors. His 14:56 at the Foot Locker Regional Course is one of the fastest Ohio times for a high school runner in state history. Wharton is also the school record holder in the 1600 and 3200 and a 4 time all-Ohioan in the 3200. Sam will continue his career competing for the Stanford Cardinal.
Jay Schairbaum 2010-2013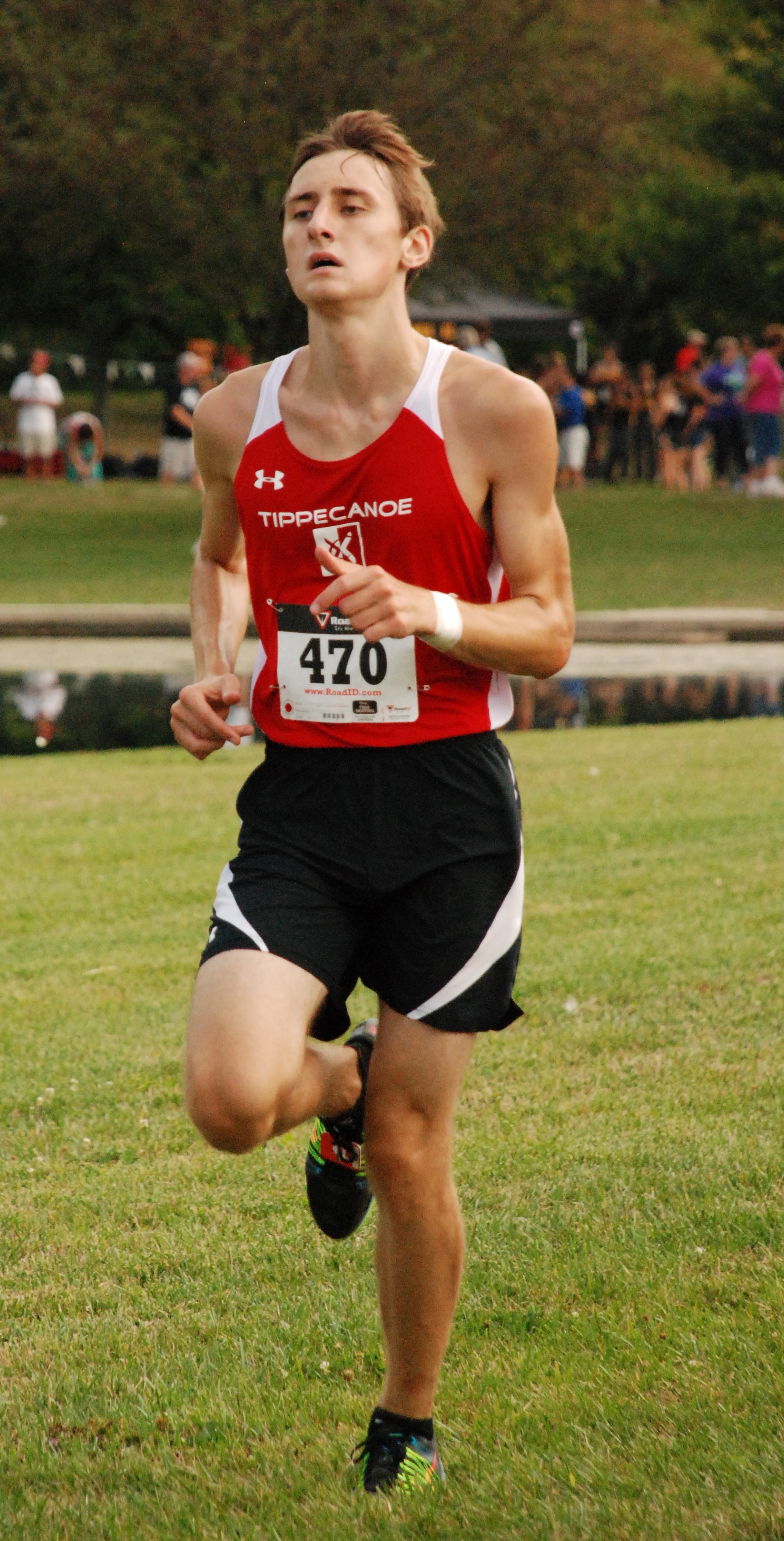 Jay Schairbaum consistently improved each year for the Red Devils. As a freshmen Schairbaum recorded a 17:40 at the District Meet. As a junior, he earned all County and CBC honors. Schairbaum was an important part of the 2012 team's march to the state meet. His 16:40 at the state meet helped the team finish an impressive 7th place in Division I competition. However, it was his memorable 2013 campaign that will be remembered. Schairbaum was all County, CBC, and District. He finished 17th at the regional meet helping the team earn the program's 7th regional championship. It was his performance at the state meet in 2013 that was his best. Jay recorded a 16:35 on a muddy course which earned him a 17th place finish and all-Ohio honors. The 2013 team finished 2nd in Division II. Schairbaum will be remembered as a clutch performer on the sport's biggest stage.